Change ActiveAssignment due dates to update or extend assignment deadlines
ActiveAssignment primary due dates, shown at the top of the forum are controlled by the due date input within CANVAS when creating the assignment item.

To adjust the assignment due date, go to the Assignments page within your CANVAS classroom. Click the vertical three dots icon on the far right of the assignment you want to adjust and choose the Edit option:
On the following screen choose the More Options button. (PLEASE NOTE: changing the date on this screen will not update ActiveClass and will only update your CANVAS classroom. Make sure to continue to the next screen.)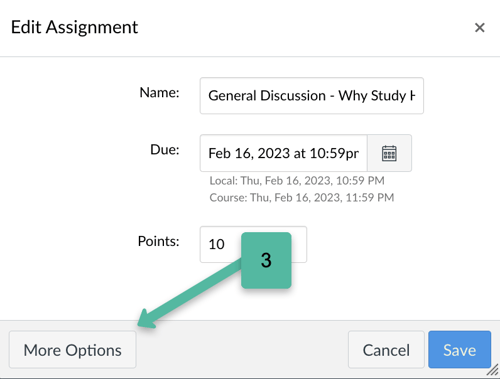 Adjust the assignment due date to reflect the new deadline and click the Save button at the bottom of the page. Due dates in CANVAS and ActiveClass will be updated to reflect that change.