The power of ActiveFeed goes beyond sharing course announcements. By bringing a social interface to your course, you can meaningfully interact with your students and efficiently answer common questions about the course.
Commenting on ActiveFeed posts
Commenting on ActiveFeed is easy! Simply click below the most recent comment, type, and hit "enter". See the power of commenting in the example below of a student asking a follow up to an Instructor post.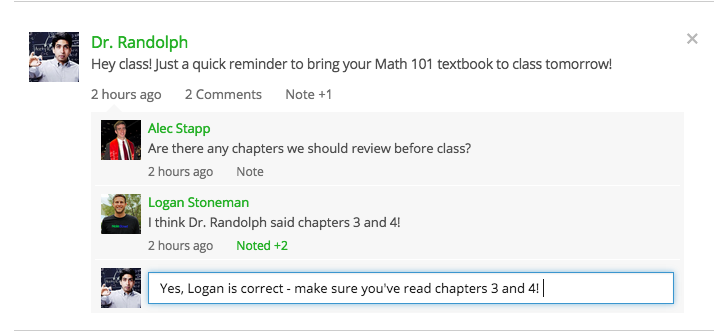 Noting a Bulletin post
Just like a Facebook "Like", students and instructors have the power to "Note" a comment or Bulletin post. Just click the "Note" below the text in the post or comment.
Quick Tip: If you're an instructor and you "Note" a post, the "Note" will turn green!
Deleting a Bulletin post
If you come across a Bulletin post that should be deleted follow these steps:
1. Click the "X" on the top right of the Bulletin post you'd like removed.

2. Confirm your action and select "Delete Post".

Did this answer your question?